The Cycling Studio at Northampton Bicycle, located in our newly redesigned building, is an indoor cycling studio designed to help increase and maintain off-season fitness when it's just too icky to be outside. Everything from endurance and training rides to group rides on Saturdays simulated by Google Maps on the beautiful roads around the Pioneer Valley.
No previous experience necessary. A great way to prep for group rides this spring.
Classes start Nov. 6th. Online schedule and signup is available. You can also call the shop to sign up for a session(s) 413-586-3810. Please remember to bring your own bike, and plan to arrive 15 minutes before class to set up.
Monday 6pm 60 mins
Tuesday 6:00 am 60 mins, 5:30pm 60 mins (C-Ride)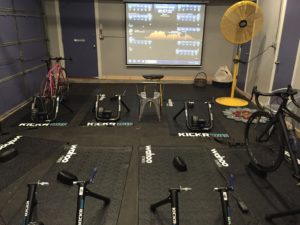 Wednesday  6pm 60 mins
Thursday  6pm 60 mins

Friday 6:00am 60 mins, 9:45am 60 mins
Saturday 11am 75-90 mins
Sunday 10am 75-90 mins
Prices: single session $15, pack of 11 $150
Bike Storage for class use $75/season, Have your bike set up and ready to go on demand. Space limited to the first 10 bikes.
Recommended equipment: We recommend you pickup a trainer skewer and trainer tire, so you don't destroy your nice ones! Both are available in the shop.